As we embark on a new year, the world of interior design is evolving, bringing fresh ideas and innovative concepts to the forefront. The dining room, being the heart of family gatherings and social engagements, deserves special attention in your home's design. In 2023, we're witnessing a captivating blend of classic charm and modern sophistication, promising to elevate your dining experience. If you're considering a dining room makeover or simply seeking inspiration, let's explore the top trends shaping dining room design this year.
1. Nature-Inspired Color Palettes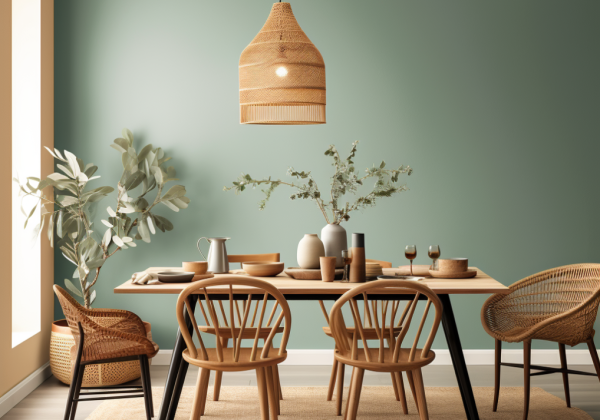 The color palette for dining rooms in 2023 takes its cues from the natural world. Earthy tones like deep forest greens, warm terracottas, and serene blues are making a prominent appearance. These hues not only infuse your dining space with a soothing ambiance but also establish a deeper connection to nature. Consider incorporating these colors through your choice of wall paint, upholstery, or even in your selection of dining room accessories like tableware and artwork.
2. Sustainable Dining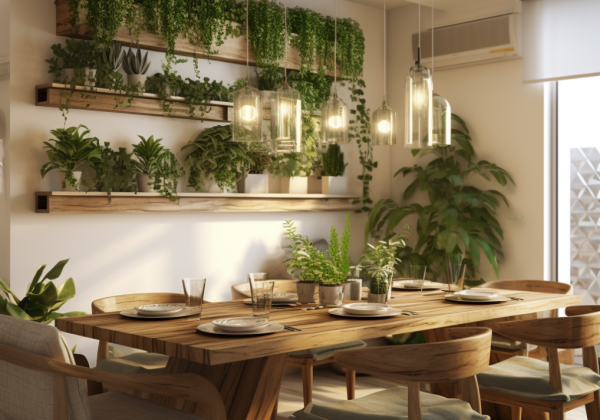 In the spirit of environmental consciousness, sustainable dining room design has gained significant momentum. This trend involves the use of eco-friendly materials, such as reclaimed wood for furniture, recyclable decor items, and energy-efficient lighting solutions. To enhance the eco-friendly vibe, introduce indoor plants to purify the air and infuse your dining room with a refreshing and organic atmosphere.
3. Statement Lighting Fixtures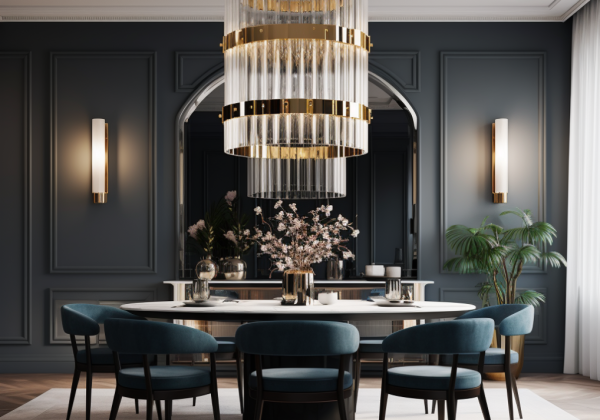 Lighting takes center stage in 2023 dining room design. Traditional chandeliers are giving way to bold, eye-catching lighting fixtures that double as captivating art pieces. Whether it's an ensemble of pendant lights cascading above your dining table or a sculptural floor lamp, these unique lighting choices can dramatically enhance your dining room's style quotient.
4. Mixed Materials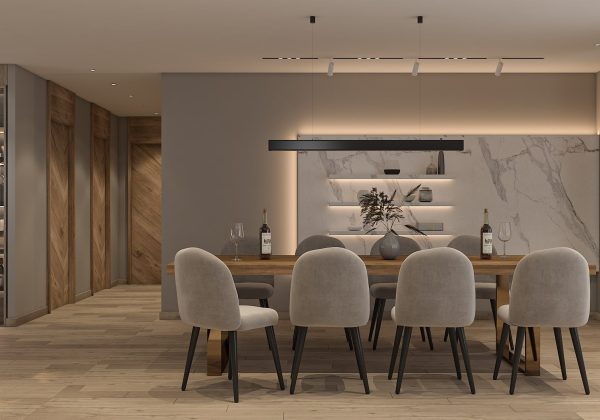 The trend of mixing materials is in full swing in 2023. Combining wood with metal, glass with concrete, or leather with rattan brings dynamic contrasts to your dining room decor. This approach adds depth and character to your space, making it feel less like a showroom and more like a well-curated, lived-in home.
5. Minimalism Meets Maximalism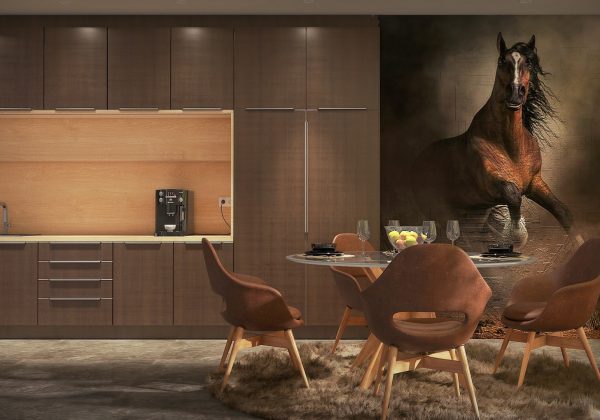 2023 marks the convergence of two seemingly contradictory design styles: minimalism and maximalism. While the appeal of minimalism endures with its clean lines and clutter-free spaces, it's being infused with maximalist elements. Think bold, oversized artworks, vibrant accent walls, or a striking centerpiece that commands attention.
6. Open Shelving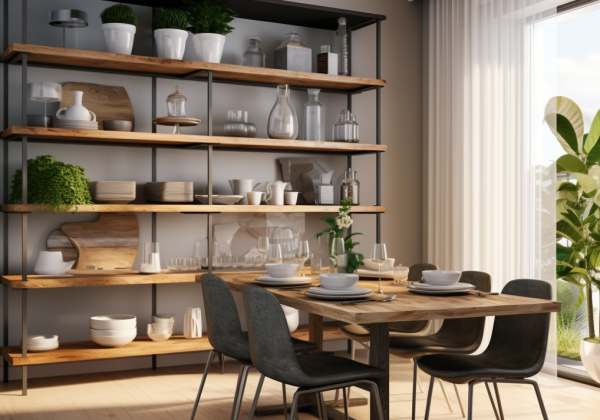 Open shelving is emerging as a practical and stylish choice for dining rooms. It allows you to showcase your cherished dinnerware, glassware, and decor items while imparting an airy feel to the room. Experiment with various materials like wood and metal to achieve an eclectic ambiance.
7. Vintage Revival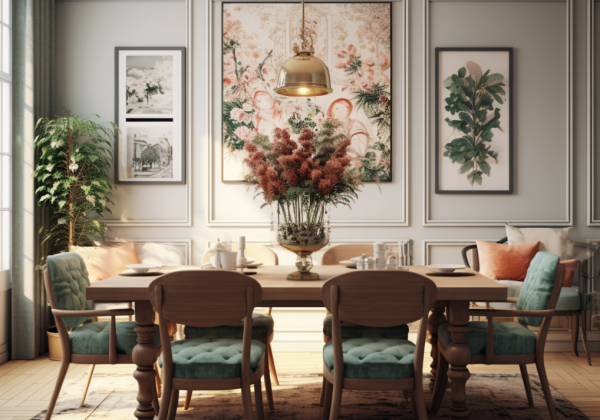 Vintage dining room decor is experiencing a renaissance in 2023. Seek out antique dining tables and chairs, vintage-inspired textiles, and retro accessories. Combining these nostalgic elements with modern pieces creates a charming and distinct atmosphere that exudes character and warmth.
8. Personalized Decor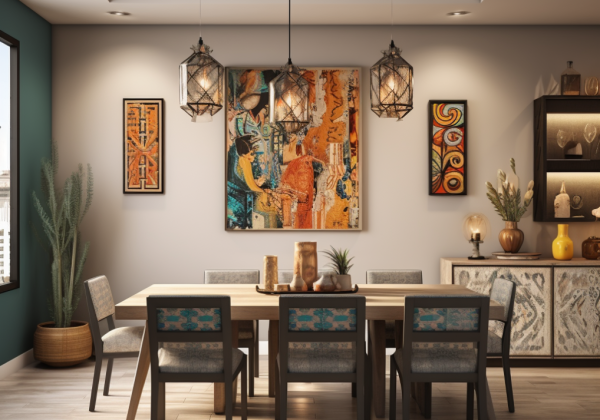 2023 encourages you to make your dining room a reflection of your unique personality. Incorporate personalized decor items such as custom-made artwork, family heirlooms, or handmade tableware. These personal touches transform your dining room into a truly one-of-a-kind space.
9. Multi-Functional Spaces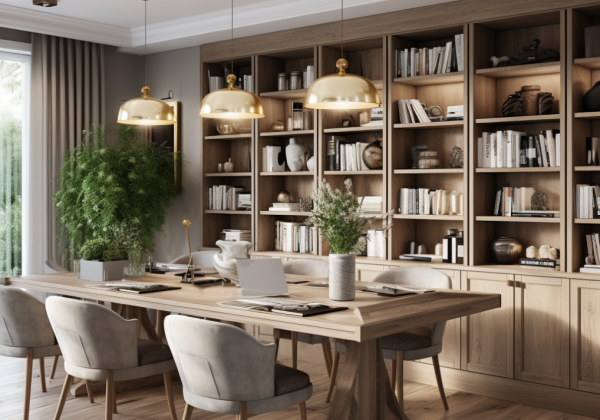 With remote work and flexible living arrangements becoming increasingly prevalent, dining rooms often serve multiple purposes. Consider integrating a functional workstation or creating a cozy reading nook within your dining area. These additions make the space more versatile and adaptable to various needs.
10. Artisanal Details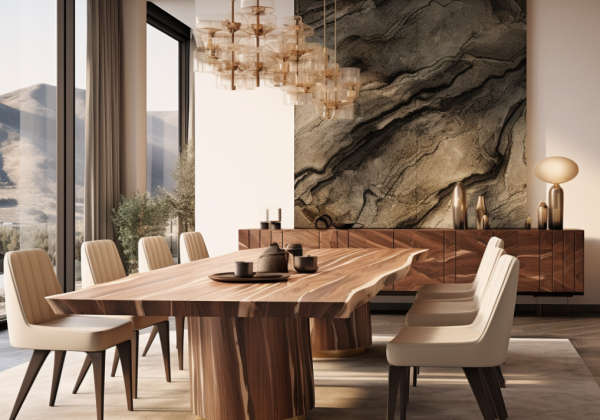 Artisanal craftsmanship takes center stage in 2023 dining room design. Seek out handcrafted furniture, ceramics, and textiles that tell a story. These unique pieces infuse depth and soul into your dining room, showcasing your appreciation for artistry and the beauty of craftsmanship.
In conclusion, the dining room design trends for 2023 offer a harmonious blend of timeless elegance and contemporary innovation. Whether you gravitate towards the simplicity of minimalism, the warmth of nature-inspired colors, or the eclectic charm of mixed materials, there's a trend to suit every taste.
Did you know? In Lithuanian, the dining room is referred to as "Valgomasis." So, whether you're designing your "Valgomasis" or dining room, these trends can inspire you to create a space that resonates with your personal style.
*To explore more designs and gather further inspiration, feel free to visit our website. Create a dining room that not only fulfills your functional needs but also reflects your unique personality. Here's to a stylish and inviting dining space in the year ahead!